Home
Gettysburg Bus Trip May 27, Brothers let go to the Friend to Friend Masonic Monument Rededication
Lodge No. 43 is having a bus trip to Gettysburg to witness the rededication of the Friend to Friend Masonic Memorial Monument. A tour bus is leaving the Masonic Center of Lancaster County at 9 am 5/27/13 this is Memorial Day. We are planing to leave Gettysburg that around 3:15 pm which will put us back in Lancaster around 4:30 pm. Cost is only $20 per person. After the Dedication you will be on your own to walk around the historic site and area, grab lunch at one of the great local eateries, and enjoy the town till we depart. There will be a special parade around 2 pm in Gettysburg and we are planning to leave for Lancaster when the parade is over for home on the bus. Seating is limited, you may bring guests. Check should be sent now to the Lodge Secretary. Order now while seats are still open. More info in this PDF Gettysburg Bus Trip
First Masonic District Motorcycle Raffle
First Prize: 2013 Harley Davidson XL 1200 Custom 110th Aniversary Limited Edition
Second Prize: $100.00 Third Prize: $50.00
Proceeds benefit the Masonic Children's Home t Elizabetown, PA 100 Year Celebration Endowment Fund.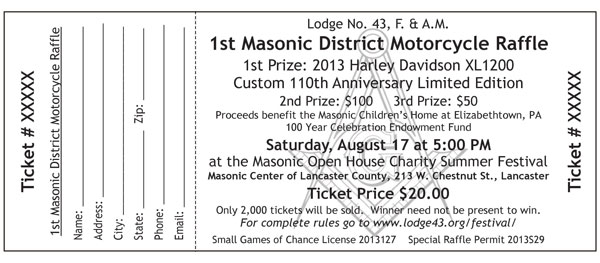 Saturday, August 17 at 5:00 pm at the Masonic Open House Charity Summer Festival. Masonic Center of Lancaster County, 213 West Chesnut Street., Lancaster, PA.
Ticket Price $20.00 Only 2,000 tickets will be sold. Winner need not be present to win.
More information can be found here . Any Member of a Lodge in the First Masonic district will be happy to sell a ticket to you for your chance to win this limited edition Motorcycle.
The Masonic Children's Home is an ideal opportunity for children who are orphaned, being raised by aging grandparents, or who come from various socioeconomic environments which do not provide the security and support necessary for healthy growth and development. All residents of our Masonic Children's Home are sponsored by a Masonic Lodge but do not need to have any Masonic affiliation in the family.
The Masonic Children's Home is funded through generous contributions to the Masonic Village at Elizabethtown. No charges are made to individuals, organizations, or any units of the Commonwealth of Pennsylvania or federal government for the services provided by the Masonic Village to children accepted for care.
Welcome to Masonic Lodge No. 43 in Lancaster, PA.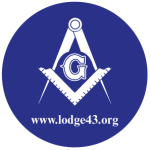 We are proud to be a part of the Grand Lodge of Pennsylvania. This site is one of the many valuable resources we provide to our members and the general public. Take time to browse the various pages within our site for a wealth of information on our Masonic Fraternity, our principles, history, and educational services. We list meeting times, our charitable activities, social and educational events, and embrace inquiries on how to become a Mason. On December 27, 2003, The Andrew H. Hershey Lodge No. 764 became assimilated with Lodge No. 43. Stated Meetings are the Second Wednesday of the month at 7:30 p.m
Lodge No. 43 is located at:
The Masonic Center of Lancaster County
213 West Chestnut Street Lancaster, Pa 17603
Telephone 717-202-1002
Content © 2013 Lodge No. 43 Lancaster, PA